This is an unusual recipe (no wine, no onion, no garlic), so I was not really sure how it will turn out. Because of the mascarpone, the consistency is rather soupy, so I was thinking of also adding it to soup category. I kind of liked it.
As suggested by Ramsay, I also tried to make risotto cakes next day, which was a first for me. Recommended. All you need to do is spread your risotto in a square tray (line with parchment paper) and cool it down completely (min 2-4h). After cooled down you cut it in squares and fry it in butter and on both sides for 3-4 min on medium-high heat.
It won't be an easy flip, but you can do it, champ!
Yes, this risotto has a million calories. If you like something lighter, try this broccoli & mushrooms risotto.
Did you know risotto is normally served as a primo, a first course in Italy?
Sadly no link to the recipe
Ingredients

olive oil
200g risotto rice
500ml stock
50g butter (unsalted)
250g cherry tomatoes - halved
100g mascarpone cheese
25g Parmesan cheese, finely grated
salt, pepper

Method

- whack the rice in heated olive oil (2-3 tbsp)
- fry a couple of min, so the rice becomes translucent 
- add warm stock ladle by ladle until rice is al dente (max 20 min, test it while cooking)

- while risotto cooks heat butter in a smaller pan and add tomatoes
- cook on a gentle heat for 10 min until soft
- crush roughly with a spoon

- when rice is cooked, fold in your tomatoes, Parmesan and mascarpone
- season to taste

- eat and explode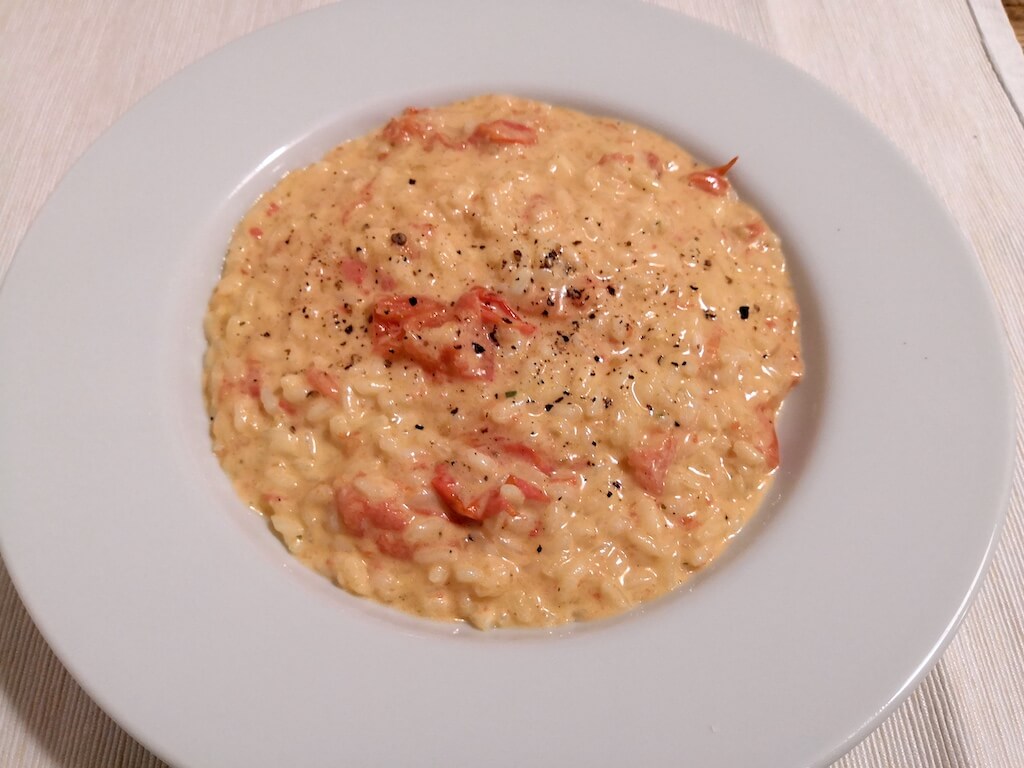 Gordon Ramsay, Ultimate Cookery Course, p. 30