This excellent basic burger is done in 10 minutes. Pépin recommends 140g patty, but I find it too thick. It is a matter of taste, you can see my comparison below. I would go for around 90-100g and then maybe you can have two?
Kenji did a sort of a tribute to Pépin in his video and watching it makes you respect Pépin even more. Check other Pepin's recipes I published.
Main lesson: you should always season your patties as late as possible, unless you want a sausage.
Ingredients for one burger

- bread or a bun
- garlic clove to rub the toasted bread/bun
- 140g (or less) 20% fat beef mince
- Gruyère or cheese of choice
- lettuce, tomato, red onion
- ketchup, or sauce of choice
Method

1. Oven grill on, high, pan on, medium-high
2. Gently form your patty
3. Bread/bun in the oven until toasted
4. Patty in the pan, 2-4 min per side (depends of thickness)
5. Prepare salad, tomato and onion
6. Turn the patty, season, cheese on
6. Rub the toasted bun with garlic, add sauce on both sides and condiments (salt on tomato!) on bottom
7. Finish the patty under the oven grill to help the cheese melt
8. Assemble
9. Go and win, you can do it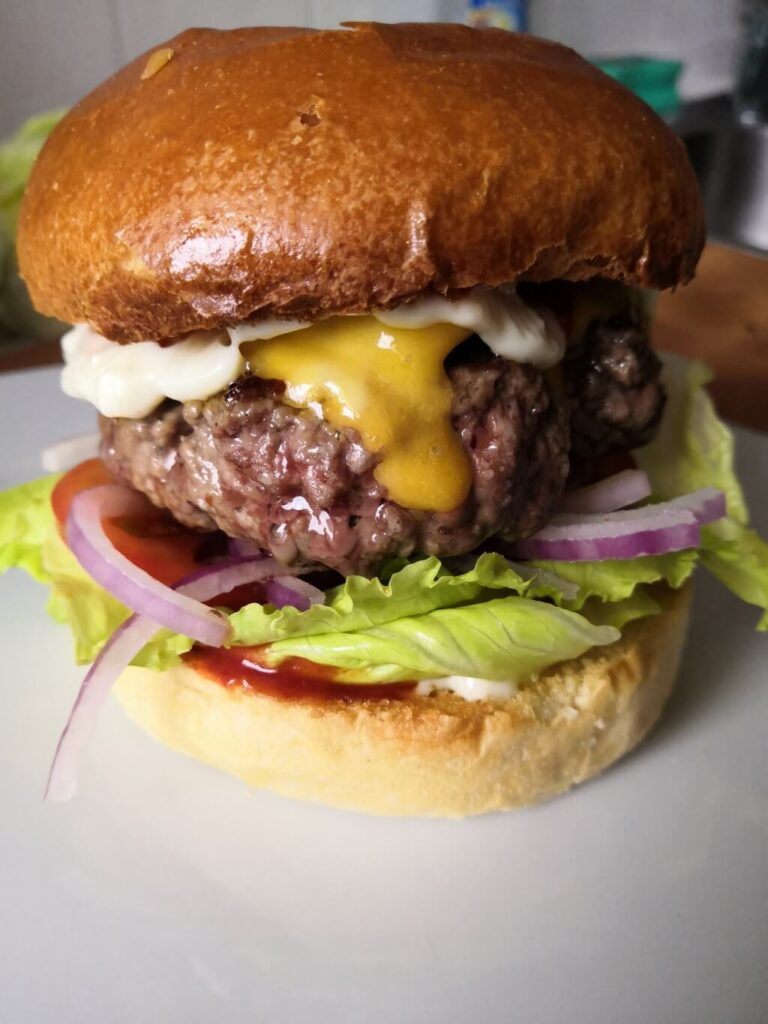 J. Kenji López-Alt or youtube via Jacques Pépin