update, 17th of March: I tested a different recipe and it does taste fresher and more authentic
I never had it in Thailand, because I have never been there; I cannot really judge how authentic this is. I did it twice; the first time we felt there could be more sauce and the second time I had too much of it.
I used tamarind paste because I had no concentrate.
After research on Wikipedia I also realised that the condiments (peanuts, chilli, bean sprouts) are served on the side.
There is lot of room for improvement. What I liked in this version is the ease and in fact cooked in 3 min; but of course you need to prep everything upfront. If you want something really good, rather go for this one.
(see the original on youtube, method the same as in the video, except that I added less water because I used tamarind paste)

Ingredients (for 1 filling portion as on the photo below, adapted)

Sauce:
- 1 tbsp fish sauce 
- 2 tbsp sugar
- 2 tbsp tamarind paste (!)
- 2 tbsp ketchup
- 1 tsp soy sauce
- 1 finely diced shallot (!)

The rest:
- 2 spring onions (greens separated from the whites)
- 1 tbsp of minced ginger 
- 1 tbsp of roughly minced garlic
- 1 tbsp of sliced red chilli (optional)

- 120g of protein (chicken breast, shrimp or tofu: if tofu fry it longer, 1 min will never be enough!)
- 50-80g of rice noodles
- AND 50g of bean sprouts (if you can get them, otherwise use more noodles)
(a bit more noodles + bean sprouts than protein should be fine)

- 1 egg
- 40g of roasted or toasted peanuts/cashews, roughly chopped
- coriander leaves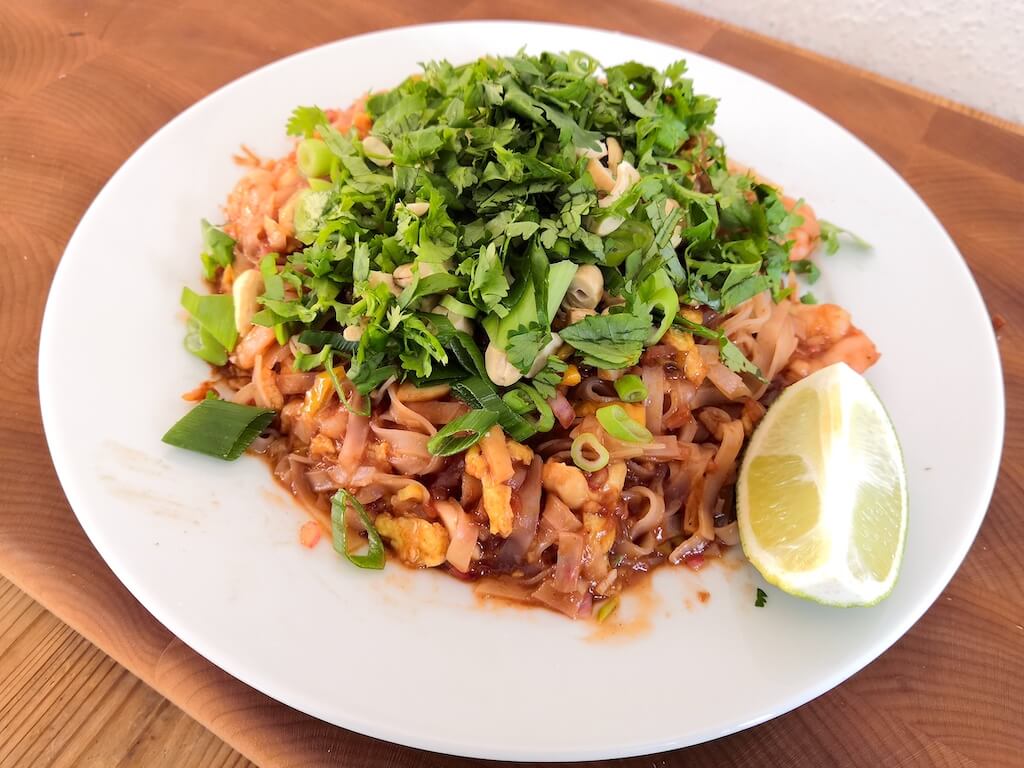 Adam Ragusea, Youtube