Quick and amazing; all you need is broccoli, garlic, olive oil and optional chilli flakes. Based on Stephen Cusato's video/recipe below.
Broccoli should still be crunchy and not overcooked. It is hard to say how much pasta water to add; when serving your pasta definitely should not be swimming in water/sauce. You like it that way? Go for it!
Another classic for you to try is Cacio e pepe.
Ingredients (for 2 as a primi)

- 200g of spaghetti, tagliatelle or other dry pasta
- 300g of broccoli, cut into bite size florets, peel and use the stalk too!
- 4-5 garlic cloves, thinly sliced
- cca 4-6 tbsp olive oil
- 1-2 tsp chilli flakes (optional)

- pecorino/parmesan for garnish (optional)
- salt and pepper
Method

You should probably start your pasta a bit earlier than the broccoli. Broccoli & garlic will be done in 5 min tops.

1. Simmer pasta in well salted water so that it is just covered by water. We want as starchy water as possible. Simmer for 1-2 minutes less than the packet instructions say.

2. Heat up your wide pan (mid-high heat). 
3. Oil in, around 2-3 tbsp.
4. Broccoli in, a bit salt and pepper, fry for 2 min, not moving much. If it's slightly charred this will mean more flavour. Add more oil if it's really dry.
5. Garlic (+chilli flakes if using) in, more oil in. Fry for a couple of more minutes. Toss and mix at this stage.

6. Pasta almost done? Reduce heat in your pan. 
7. Move pasta to the pan, and start adding pasta water (this is a feeling thing: start small, maybe 150ml, half a ladle, you can always add more). Mix and shake your pan.
8. Pasta water and oil with garlic will become saucy, and pasta & broccoli will continue to cook, pasta absorbing some more water. Probably you will add more pasta water at this stage.

9. Adjust the pasta water/sauce to your liking. Taste pasta and cook more until al dente.
10. Serve, scraping any sauce left in the pan and garnish with hard cheese if using.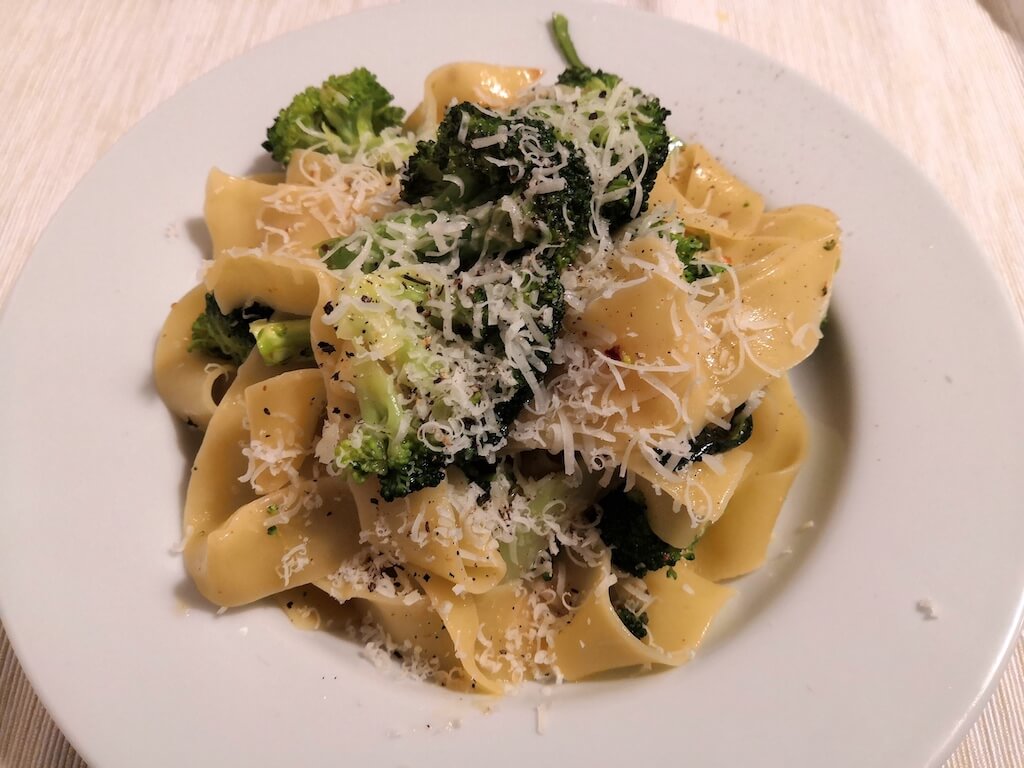 Link to Stephen's recipe, Stephen Cusato or youtube